BUY FOR £395 DELIVERED! FROM DIXONS.
USE THE FOLLOWING CODE AT THE CHECKOUT: 203018 TO GET A £60 DISCOUNT..CLICK HERE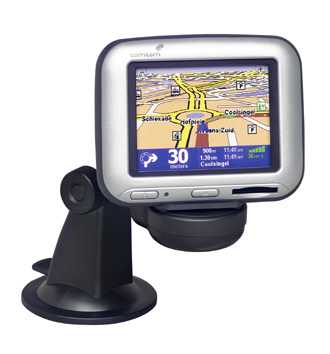 TomTom Go is a stand-alone, portable and easy-to-use car navigation appliance that incorporates navigation software, maps and GPS receiver in one device.
Accessories included:
Suction mount, Screen Cloth , Installation poster, User manual, SD card with software and maps pre-installed, Major Roads of Europe on CD, Cigarette lighter cable and Mains adapter.
Unique advantages of TomTom GO
Complete car navigation solution in one box including car mount
Smart and easy, door-to-door navigation:Attach. Switch on. And GO
Long-life rechargeable battery and cigarette lighter operation
Highly sensitive, integrated satellite receiver
Simple touch-screen operation
Modern and sleek design to fit your style
Highly portable – easy to fit and remove in seconds
Hardware Processor: 200MHz ARM920T
Screen: 3.5'' 320 x 240 colour TFT LCD
Memory: 32MB RAM
Battery: Internal Li-Ion
Memory card: SD-memory card, including the software and maps
GPS reciever: Built-in antenna, 12-channel 'All-in-View' tracking
GPS Assisted Satellite Navigation: Uninterupted navigation - even in tunnels
Sound: Internal loudspeaker
Power supply: Universal Mains adapter and/or cigarette-lighter plug
PC connection: via mini-USB cable
Dimensions Size: 115 x 91.5 x 57.5 (mm)
Weight: 310g
BUY FOR £395 DELIVERED! FROM Dixons.
USE THE FOLLOWING CODE AT THE CHECKOUT: 203018 TO GET A £60 DISCOUNT..CLICK HERE